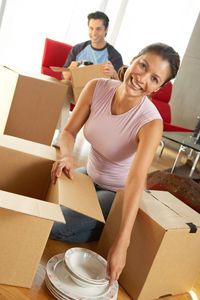 Back when we wrote about the alternatives out there to traditional self storage, mention was made about schemes where either side of the arrangement could advertise their storage wants or capabilities on the web and negotiate a plan together. For example, somebody requiring storage space for items could go on the lookout for a notice from another person advertising that they had some space available for storage. Not different to the usual arrangement, except that the advertiser is also a member of the public, not a self storage facility rep, and even more interestingly they would probably be using some unused part of their house as the storage solution.
The idea is that this is a cheaper alternative to self storage, attractive to the person that just wants to store a few things, and even more so to the person looking after the items who doesn't really need to do much at all to earn a little extra money. Some will be drawn to the "gentleman's agreement" aspect to this – rather than their enthusiasm being swayed by contract lengths, terms and conditions and so on.
There is the other side to the coin though in that you are essentially leaving a portion of your belongings with a stranger who you know nothing about. Whilst you might feel fine with at least knowing where they live and having had some reassuring correspondence with them, your insurers may feel slightly differently about this sort of thing. Plus you need to be confident that the conditions they are offering for storage are suitable for your items. At least with business park self storage, there are climate controlled solutions that can give a strong guarantee that your belongings will last the duration of storage without the effects of unsuitable levels of humidity and temperature. Also, a contract would let each party know where they stand in case of dispute. Storing items with somebody else and then them wanting to give you those back because their own circumstances have changed, for example, would void the whole point of this exercise.
In order to limit these sorts of issues, sites that offer such a storage solution will work on a trader points system, much like eBay, where parties can give frank feedback about each other in order to advise future customers who may be most suitable and trustworthy for the job they want carrying out. Insurance arrangements between both parties would need to be scoped out, and suitability of conditions verified. If for whatever reason the structured approach of traditional self storage or daunting costs is the issue, this might be an avenue worth exploring for storing belongings.
Posted in: Storage Info