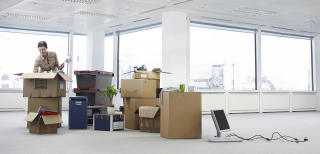 When you are trying to turn over a profitable business, the last thing you want to be dealing with is the extra time and expensive labour of an office move. However, as business expands or changes shape, or leases expire and landlords put the rent up, it is something you will inevitably have to face sooner or later. The build-up to a move in setting up new agreements, studying contracts and floor plans is a drawn out process in itself, but merely an extended overture to the more practical headaches that could be awaiting you on the ground.
Whilst you may be factoring in a good couple of days for the main thrust of the move and be certain things are back up and running on a minimal scale, nothing is particularly guaranteed once the process starts. If ease of access to the new office is underestimated or you have bad luck with the traffic, even the best made plans can be quickly scuppered.
Making some provision in your plans for self storage might well take some of the guesswork out of the effectiveness of your move. As a business owner, you may already have realised how useful self storage is for archiving or keeping hold of stock and assets for later use, but there is plenty of advantage here for moving your move as easy as possible.
Imagine for example a scenario where you could leave items somewhere temporarily that are not essential to quickly get the office back into business mode again. You won't need your paintings, spare bits of IT and furniture, or company archives so soon, so surely that can be left for another day once everyone has settled in? The key is to stagger the move effectively to get the process over quickly and efficiently, with the important benefit of keeping closure times to a minimum.
If you haven't used self storage before, you may have a few questions about leaving company valuables under somebody else's guardianship. The fact is, it is a perfectly safe and normal thing to do these days. The keys to the storage unit are yours and yours only, and security of the site in general is of greatest concern to the operators of self storage centres. Expect CCTV, 24 hour personnel on site, and all sorts of deterrent fencing, alarm systems and security lighting. Probably better than many offices!
It is worth discussing the sorts of things you are storing with the self storage operator, but in 99% of cases you should have no problems in securing a storage unit near you to hold the items you wish to store. Unfortunately the office plants and goldfish won't be allowed admission!
Strike up a good relationship with your storage company and they will be able to give you all sorts of advice on the best way to store items, and alternative ways that using the storage unit could benefit your business. Plus you will find this blog has grown into a treasure trove of information (if we say so ourselves) so please search away!