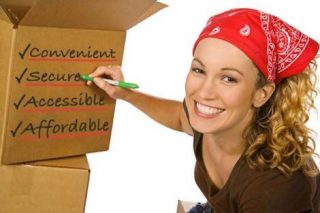 When evaluating alternatives to self storage, a recent and promising addition to the roster of methods is that of mobile self storage, or rather a storage company that will collect your belongings from your location and store them for you elsewhere. Then when the time comes that you need these items back, you give the company a call and they will be back with your items. It could be thought of as fully hands-off self storage without ever requiring a visit to the self storage premises, although depending on the company that can be arranged as well.
Dropping off items for storage is what it is in essence, although to be more detailed, the mobile storage company will leave a container at your premises for you to fill with items. Once you have done the loading, they will be back ready to take the container into their warehouse for storage. Some other companies have a slightly more elaborate solution where they provide boxes of given dimensions that you fill up ready to be taken off, but whichever way or the other, the solution is basically like a boomerang courier – you get things ready to be sent off in a pre-determined size of container, and you get them back when you want later.
Why would you want to go for this rather than traditional self storage? First of all, if transport is a bit of a headache for you, then this removes that problem right away, as they will be the ones doing all the driving and moving around for you. Also if you don't need to keep going to the storage unit to pick up and drop off items, and have no reason to be spending periods making other use of your storage area, then this could be a possibility worth entertaining.
So what actually happens to your belongings when they get sent away to mobile self storage? Well unsurprisingly they go into a warehouse, but often with what one might call a more industrial solution to storing items. Rather than visitor friendly rows of units and a gentle customer service experience, one might find storage bays packed long and high with access only via a forklift license. This is why mobile storage companies need a bit of advance warning that you need items sending back or are going to turn up to rummage through your unit, as accessing what you need might take more work for the storage provider than just giving you the keys.
Mobile storage companies are already developing twists to this model in the quest for the unique and ultimate selling point for the customer. It will be interesting to see how much they can push the format of hands-off storage, and whether it will take much of a share away from the more popular standard self storage methods. After all, customers often require access to their items at the drop of a hat at times that suit them, and others storing valuables will understandably want to keep a watchful eye of items in storage or transit – in both cases this is not likely to be the storage solution for them.
Posted in: Storage Info