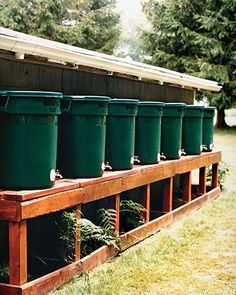 Not very long ago we had a look at the new and exciting ways self storage providers are able to help the environment. We saw how self storage facilities are by their nature very adaptable to trialing and using environmentally friendly methods of energy production – in many parts of the world they are relatively recent constructions or conversions, and will already use less lighting than most occupying that amount of business space, since the bulk of their volume is stored products. Alternative energy sources such as solar power and ground heat have been employed to good effect, and many storage facilities have really jumped on this angle for attracting more customers.
However even using standard energy sources it is possible to evaluate your consumption and see where less could be reasonably used, without having an impact on the effectiveness of the business. An example would be using light timers and sensor activators in corridors so that lights are on when they need to be on, rather than at set hours, and is much more convenient for the customer who doesn't have to remember where all the light switches are and what the etiquette is for turning them on or off. The same line of thinking could be applied for external lighting around the perimeter of the building and the car park.
Many self storage facilities sell supplies to the customer and this could be another area where a green ethos could be employed. Sourcing well made recycled cardboard boxes to put on sale will help do your bit for the environment, and are always a useful selling point for customers. When they realise that they are just as effective as the boxes they were using before, but with a guilt free environmental impact, they may well be back for more. You could further spread the environmental message in collecting used materials for recycling, if customers are unable to do this for themselves. Just the mere impression of taking pride and care in helping the planet gives customers the feeling that they are playing their part, not least it is the genuinely honourable thing to do.
You could also engage your customers in less paperwork, that is less invoicing and notifications using paper. Since virtually everybody is online, the old art of paper invoicing can seem somewhat archaic to say the least, and important messages can be far more easily relayed using email and text which customers, invariably with several email-receiving electronic devices, may see only moments after being sent off. What financial records you do need to keep on paper for your own records is down to what is considered best practice for these times, and ought to be discussed with an auditor or accountant.
Not only do these incentives give self storage facilities a boon in their environmental commitment, there are also obvious time and cost savers in there too. It is certainly worth thinking about how you can change old ways and try streamlined methods that the environment will thank you for.
Posted in: Storage Info