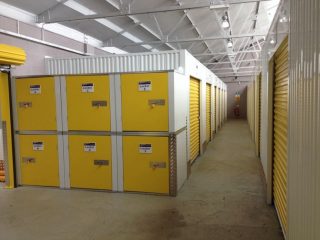 The first years of young adulthood can be exciting times – studying in a new town, enjoying the pleasures of the world far away from the family nest – but are also a dawning of great responsibilities. Feeding yourself, paying rent and eking out a social life without much money from one day to the next isn't the only challenge, there are also various logistical scenarios where you will quickly learn to pull favours and think on your feet.
One such example is the end of the academic year, when you may be unceremoniously thrown out of the student halls, or have family demanding that they have your undivided attention over summer. In either case this probably involves head scratching about what to do with all your stuff that you can't afford to simply discard under these circumstances. Followed by further head scratching about when to start packing and where to rustle up some boxes for next to nothing as quickly as possible.
There are several options – the most attractive of which is to politely request a family member with a car to help shift your possessions back home and back again (that's assuming ownership of a car is not par for the course in your town). Once receptiveness to these requests has dried up, you may be able to work out deals with other students who might have some space in their living quarters that they can temporarily lend out to your pile of belongings. On that note, don't rule out a propitious arrangement with your present or future landlord about storage – they may have a good solution up their sleeve, such as allowing you to move belongings into your new place early for a price of a small sum and a handshake. After all renting out space is their livelihood.
How about self storage though? Since this is an evergrowing business enterprise in every town these days, it will be worth ringing around and seeing if any self storage companies near you have small units for short term use – indeed many do where there is demand. Plus if you wave your student card at them they may well have special offers which you can take up. Indeed as property rent increases, self storage is becoming indispensible for students that live a long way from home, or even overseas, as putting your items in storage over the summer break makes substantially better financial sense than leaving it in a flat for 3 months you are paying full rent for, or unjustifiably large airline baggage fees. Also there is a very convincing argument for self storage's security arrangements over leaving property in a flat, attended or unattended. You are the only one with the key, and these facilities are CCTV'd, alarmed and bolted to the max – probably the same can't be said for the properties in their cheaper districts of university towns.
Conveniently located self storage for those of all ages and incomes is definitely more of a feasible possibility than back when I was a student – take advantage of it.
Posted in: Tips & Ideas