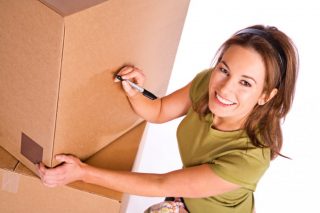 The circumstances surrounding putting belongings into self storage can be rather expensive as they are, especially if you are in the middle of a tricky house move or sale scenario. You have already put down considerable sums of money in spurious "admin" fees, paid your removals driver for his hard work, and probably already started shelling out new furniture and decoration for your next property. And then you realise that storage boxes and containers themselves come at a surprising cost.
Way number 1 to get boxes at the cheapest cost is simply to get into the habit of recycling them. In my last move I was constantly ferrying myself to and from the local DIY store with boxes, either big plastic ones for long term storage, or the ubiquitous cardboard boxes for quick and easy use. I bought a lot of cardboard boxes, so many that I don't want to make that reinvestment. They are currently stored away at home, ready to be reassembled when the dreaded next time for moving comes along. Likewise keeping packaging from large items and folding it down can give you some useful storage containers for these types of situations. And if you don't have boxes, perhaps somebody else does. Put up an ad and see if somebody is around who can help "freecycle" them.
However, hindsight is a wonderful thing and you might not have hoarded a stack of cardboard boxes in the far reaches of the attic. It's time therefore to go out on the scrounge and see who can donate you a few boxes to help out. You may end up doing a favour for someone for offloading what would normally result in an expensive collection cost for them. Some supermarkets will have an area where they dispose of empty boxes for customers to collect, although I have seen less of that in recent years as they seem to be keener on recycling for themselves, and you may have to go to the customer service desk and ask instead. And it's not just supermarkets, virtually all stores with products on shelves are going to have boxes lurking around, ask and see if they can put some aside for you. There is also the option of scouting out for boxes that have been disposed of at rubbish dumps or behind commercial property. This may sound like sheer desperation, but you never know if you might find what you are looking for in good condition if you don't try.
The only caveats with reusing boxes is that obviously they might be slightly worn, so you will need to assess if they can hold heavy or valuable items. Also, they may carry traces of odour of what they contained previously, which might be OK in some circumstances, but you definitely don't want the smell of food pervading a box of clothes. It might be a better compromise to see if you can get boxes cheaper rather than for free. Try contacting box distributors or DIY retailers – they may have some boxes that, whilst perfectly functional, have a bit of surface damage and therefore not suitable for sale. They may however find a good home with you.
Posted in: Questions