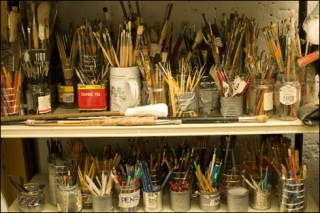 Continuing the theme of previous posts about the potentials of using self storage as a business space or for hobbies such as practising music, we are now going to delve into the world of art and explore how a unit could be appropriated as an art studio for artists struggling to find suitable rental space in other types of property.
When looking into a good space to be artistically creative, you are going to have to check the practicalities with each storage company you speak to. Obviously lighting or some sort of electrical point is a must, otherwise not being able to see what you are doing will make this a non-starter. Easy access to water as well. And since you are going to be spending a bit of time on the property, it is worth giving the place a visit and checking you are happy with all the amenities, bathroom, coffee and snacks machine at reception and so on, so that you can do art at the storage unit near you in relative comfort.
Storage unit facilities are by their nature often very quiet, they mostly contain rooms of people's things which are only accessed on an occasional basis. As such, this gives you some peace and solitude should you need them for you to stay focused on your work. If you hum to yourself or like the radio on whilst you are working, likewise there is hardly anybody around who is going to be too bothered by either. So if you have found yourself ostracised from working at home, or finding shared studio space a tad haphazard, using a self storage facility makes a good deal of sense.
Another matter that you will need to discuss with your storage company provider is opening hours. If you find yourself in the best headspace for creating early in the morning or like slogging it through after dark, or especially enjoy spending all of Sunday in the art studio, then you need to find a storage company that will accommodate these arrangements for you. Bear in mind that what they will not let you do is use the art studio as a temporary living space, these are business premises and the insurance is not designed to cover nighttime naps, so do not push your luck here. If you are tired you will have to pack up and go home I'm afraid.
Of course reading all this the main question is going to be what the bottom line looks like. Well costs wise you will be surprised how much you could potentially save compared to renting a similar space for yourself or even with others. Have a look at some units and see what will suit you in terms of having enough space to work, and store your art and materials. Also consider the security arrangements – with all the CCTV, locks and access arrangements you are probably not going to find anywhere safer on the planet to keep you creations. The matter of the best way of storing art we will come to shortly in another article. In the meantime, have fun creating!
Posted in: Storage Info