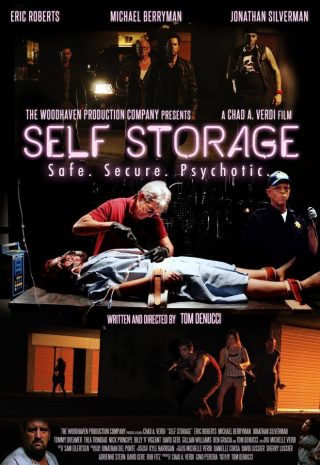 Self storage could be thought of as a somewhat unglamorous, unromantic and lacking cinematic appeal, but some film makers have thought otherwise. In the past few years alone, there have been a few movies set on the facilities of storage units, where the storage unit itself plays a part in the idea or drama.
Storage (2009)
Kicking things off is Australian thriller Storage, which deals with the aftermath of a man's murder. The victim's son Jimmy now lives with his uncle who runs a self storage facility, with some tenants that arouse Jimmy's curiosity to the extent that he decides to break into one of the units. The storage unit contains a selection of items that point towards the tenant being a murderer. He and his uncle decide to take the law into their own hands and start a dangerous investigation.
Storage 24 (2012)
Based in London this time, we switch genres to horror sci-fi. The plot of the story revolves around the crash of a classified aircraft, which leads to the dispersal of its confidential cargo over the city. However, one item of cargo nobody could have expected was an alien, which terrorizes the remaining trapped customers of a self storage facility, with their own sub-plots adding extra tension. So if you want Alien, but inside a storage space, this could be your dream come true.
Self Storage (2013)
Another horror movie set in our favourite surroundings. Rather than aliens, this film goes for more of a slasher approach. A young night security worker at a self storage facility throws a party in one of the units, away from the eyes of his boss. Sounds like a great plan to begin with, but little do they know that the facilities have been used for shady dealings, including human organ trafficking. In the course of the night, the blitzed partygoers fall prey themselves.
Storage (2014)
This is a short film about a woman who goes back to storage to retrieve her items. Due to a painful past, this is for her not the typical trip down the lockup, and the film deals with gaining strength and resolution to move on from dark times to a brighter stronger future.
Are these films worth your time and money though? Interestingly Storage (2014) which lasts a mere 18 minutes and has an apparently simple plotline, is recognised as a very good short film with a convincing narrative and clever use of metaphor and drama. Storage (2009) has had more mixed reception, but the general consensus is that it is worth a watch, and in the right circumstances is gripping entertainment. The two horror films however are deemed to not be worth the effort, although enthusiasts of those genres (or even self storage) might find themselves getting on better with them than the average cinema goer.
Posted in: Fun