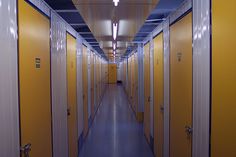 Self storage long has a reputation for being where unruly household items accumulated, but actually as the business has globally expanded this is now becoming a stereotype of the past and many businesses and corporations see value in renting the storage unit or warehouse space near them in order to increase their business potential.
There will come a time where your office space is overflowing and a reassessment of the operation needs to take place. The benefit of considering self storage is not just one of extra space, but extra space as and when you need it. Moving to a bigger office is one goal, but with current business rates might not be sustainable or sensible. If you could get hold of some cheaper business space, how would you use it? Would you put some of the archive business items in there and important backups, to be retrieved as and when needed? Or would it serve as a useful stock room with daily access, and the potential for easy delivery of stock orders? There are probably hundreds of other configurations and questions. That is the beauty of self storage, it allows versatile use of space at the fraction of the cost usually associated with business space.
A big question for businesses is whether the facilities are safe and that belongings will be kept secure. Self storage facilities have a lot of responsibility to get this right, and have various safeguards in place to ensure that clients' units are protected. As well as high security locking and alarm systems, CCTV, and increasingly often a 24/7 human presence on site, the building facilities are demonstrated to be weather proof and many also ensure climate controlled conditions, so that items are kept within reasonable atmospheric parameters. You and your storage company will also discuss the best options for insurance of the stored items, and the best type of lock required for your particular unit.
Going in the opposite flow to security, the accessibility of self storage is a good business benefit. Open times of facilities are often fairly wide, so if you are using the unit for archival or backup purposes, you can pop in before or after normal working hours in order to access your stored items. If you are running the storage unit as a stock room, it will be easily achievable to have work colleagues man the extra piece of space and take deliveries, with all the resources of a normal working environment.
The contract period for self storage is a lot shorter than is often found for regular business space, so this affords some much needed flexibility to the arrangements. If you find that after a year that you don't need it any more, then winding up the unit should be fairly straightforward. On the other hand, if it has gone very well you can extend the contract without hassle and possibly even move into a bigger storage space should your business require that.
Simply put, self storage adds some extra options and flexibility to your business operations, that it should be seriously considered.
Posted in: Business