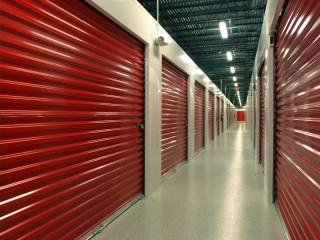 When running a business one of your biggest expenses is simply the space in which you operate. Business property owners will lucratively raise the rent at the nearest sign of development in the local area, not least business rates and taxes in the center of a city can be hair raising. As such it may be considered that business possessions and paperwork that are not required for day to day work but are nonetheless of worth to the organisation's efficient running, ought to be safely placed in a cheap business storage unit for retrieval whenever required.
It isn't just small organisations on a tight budget that face this space issue, but even the biggest who need to keep stacks of information and paperwork in good order and under high security, without cluttering up rooms of their offices. Legal requirements and long casework examples may lead to a lot of information needing to be retained, and a good affordable self-storage facility is the one place that will provide this possibly at a fraction of the cost of upgrading offices. As storage companies usually work within extended office hours, this is perfect for the times when access to old files might be required.
Businesses may be surprised at how amenable self storage companies can be to get your long term trade. Some can provide you with areas that would rival a full warehouse, complete with power and phone or data lines in which to keep in contact with the headquarters. It is this sort of flexibility which makes using an external storage facility a much more attractive proposition than wasting time clumsily assembling shelves and cupboards in already oversubscribed office space. And of course you can store whatever you like – many have found that keeping their sales stock in storage whilst running all the admin in the office is a very efficient way of working. Need a delivery made – no problem, the delivery company can deliver straight to your business storage unit – none of the hassle of coordinating a delivery and then ferrying everything down to the storage in multiple trips. And if you're lucky there could well be somebody very handy with a forklift on site too who might have a moment to lend you a hand.
And what if you run out of space in your storage? Well done to you, clearly your business must be doing well, so your company can help you upgrade your storage area size in a matter of moments. Pretty simple really.
In fact, some businesses, as detailed in other parts of this site, would probably say that they are operating mainly out of their self storage facility, and this is where an interesting development lies as some of the bigger storage companies are now branching into hiring units as small self contained offices and meeting rooms. This obviously is a great cost saver, and that's not all, some of them come managed as well with some of the admin basics of running an office being incorporated into the contract. Your storage is of course only down the corridor too, so that's an implicit bonus.
Going back to using storage facilities for their intended purpose, larger companies that operate nationally can, on the strength of one contract, make use of multiple storage units across the country, which means that local departments can retrieve relevant items and information as delegated by the central headquarters, using storage units near them. Really there are a wealth of options now, and this article probably only covers the tip of the iceberg. If you are curious about finding out more, you can refer to the map below for an idea of where the storage companies are located in your area and see what they can offer you. As businesses are their core clients, they will be falling over you for your trade and as such will have some very competitive offers and no-nonsense contracts on the table.
Posted in: Business