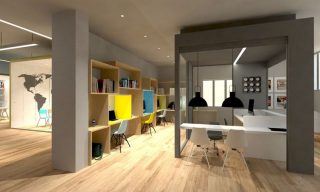 Many office based workers show a little envy for those whose working arrangements allow them to be based at home. The drudgery of cramming yourself onto the public transport system or sitting in traffic jams amongst the school traffic, only to try to do your job amongst the distractions of others when you get there…however it's not all rosy at home either. Just getting out of the house and seeing daylight and other people becomes a bit of a rarity, you start to feel a bit cloistered away. And with the borders between work and home life being eradicated, it's difficult to get into a pattern where you might put your work down for a few hours to get on with other things in life, and vice versa there are the expectations of others that you can drop everything at a moment's notice to deal with household issues just because you happen to be there.
It is the latter set of disenchantments that might make you want to venture out into getting a small piece of office space. This will help focus the mind on work when it needs to be, and provide a good base for work and a professional location for clients to come and visit – the coffee shop isn't really a place to discuss confidential business. Actually securing something that is good value can be difficult however, as business rent is in a league of its own. However fresh on the scene of small office space rental are services provided by self storage companies. Having understood the importance of providing cost effective space for storage, business in some facilities has shifted over slightly to space for working where the customers can enjoy the same benefits of good value space for business purposes.
In a regular storage unit you are not going to find much in the way of light or electricity, let alone telephony and business wifi, but this is covered in dedicated office space agreements. And if you fear being shut away in a dreary container then cast your expectations aside, as you will find that office space is brightly laid out and designed, indeed just like any other office space. Depending on the storage provider you might benefit from other bells and whistles, such as serviced reception, coffee and snacks, managed deliveries, hey just like an actual office (what were you expecting?)! If you need a meeting room then no problem, one can be set up for you, so you can meet clients with a bit of space and professional veneer. Also should you decide you don't need the space any more, it is very likely you will be under a far less punitive contract than the traditional office space contract which can see out a great number of years.
So if you want to enjoy business service but not at the traditional business prices, all the whilst increasing your productivity, then getting your own small office away from home distractions could be the step up that you require.
Posted in: Business