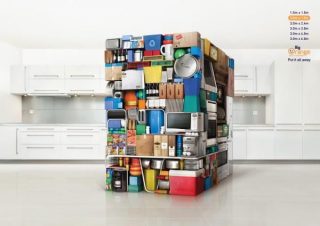 Self storage is a difficult proposition for advertising. There are many adverts out there that boast of the quality, spaciousness and friendliness of the facilities, but the pressure on advertisers and businesses for many years now has been to deliver something that is also very entertaining. Your film crew many never need go into your storage facility, as long as there is an interesting and memorable way of getting your branding to come across. Here are some examples of self storage adverts with a difference:
1. Contortionists
This gem of an advert is from Access Self Storage who worked with two contortionists squeezing themselves into tight storage bays and scuttling through corridors, managing to smile all the while. It's eye catching, but somehow I found it quite creepy as well. The advert uses the minimal confines of the self storage facility in a creative way, which I assume is the message the advert is trying to convey. It's a very good example of something that will stick in your mind for a long time to come.
2. The Date
This advert from A1 Self Storage shows a match not quite made in heaven. During the course of a dinner date our hero realises that every single point his insufferable date is criticising her previous partner for, applies equally to him as well and his home adornments. After a phase of furiously consigning every trace of his life to the self storage near him in order to accommodate her whims, she arrives at his now stripped apart minimalist apartment, only to continue picking apart whatever is left. Another love story…
3. Returning Home
This one from Public Self Storage puts a spin on the self storage formula to show a young man returning home with a box of his belongings, obviously plucked fresh from his self storage unit. Upon arriving in his bedroom, he finds his father has turned it into a rather sordid exercise chamber and the horrors of living with his parents slowly reveal themselves once more.
4. Wistful
In this advert promoting Devon Self Storage we get close up focus of a man on a bench at a turning point in his life where things have not worked out. Seeing his train of thought appear on the screen, the realisation at the end is that he still gets to keep a whole load of belongings, thereby prompting an unseen trip down the self storage to sort out a contract.
5. Hektor!
One from Germany here, promoting MyPlace, with an increasingly economical formula. No contortionists or exaggerated back stories to this one, just one over elegantly dressed woman and a cupboard which opens itself via a bit of tugging at the handles and spurious editing, spilling out various contents on the floor.
So what is your big storage ad going to look like? Is it going to pursue well travelled channels, indulge in cinematic plotlines, or simply going for something silly and catchy. Have a think about it – these adverts would certainly have got these companies recognised for one reason or another.
Posted in: Fun