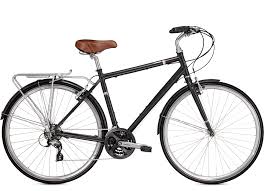 We already covered how to store a motorcycle, which is a tricky task to get right given all the mechanical parts.  How about the humble bicycle? It is a frequent guest to many self storage units, being one of those items that isn't necessarily essential to a house move, and many people often only required for those country summer vacations. Bicycles have the advantage of being robust and versatile however, so methods of storage can be creative so that they are packed away neatly and don't take up too much space.
Some storage solutions will allow you to be more flexible with how to store your bicycle, so that it makes best use of the volume of the unit available, rather than taking up floor space and generally being tripped over. If you are able to, try a hook or wall mounting in order to keep the bike off the floor and save a small bit of space. For real pros, you can get even store these on the ceiling with the right sort of gear, it just takes a little imagination and a safe way of getting it back down again! As one would with a motorbike, try to put a protective cover over it wherever possible, especially if outdoor storage is going to be the case. Take off accessories and water bottles, it would be a good time to take these home and give them a good clean out.
Now may as well be the time to give the bike a quick home service. Like many mechanical items, a service prior to storage will help maintain the longevity of the bicycle. The first thing to do would be to check the frame for any spots of weakness, in particular around joints. After all the frame will be expected to bear the weight of your body when you sit on it! Give it a clean too including the saddle area, with a stiff brush to get all the dirt off. Water is not advised due to the risk of rust being introduced to the frame. When it comes to the cable and chain, do your best giving these a clean and relubricate. Lubrication is very necessary here again so that rust does not affect the performance once taken out of storage and put to use again.
Also, pay attention to the tyres. These should be well inflated prior to storage, especially if you are storing the bike on the ground. A flat tyre won't be able to take the weight of the bike evenly and this will concentrate on one spot, thus deteriorating the rubber. You may as well check that they are still spinning correctly and that the brake pads are in good condition, any problems with either of these might mean a trip to the bike shop would be more in order than putting into storage at this stage – these are issues you don't want to forget about and then only remember when it's time to ride it!
These tasks shouldn't take too long and you ought to be able to get back on the bike again with minimal effort when it's out of storage.
Posted in: Tips & Ideas